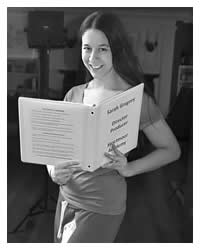 The following is a forward from the director of Strictmoor Academy, Sarah Gregory.
"Well, where do I begin…??? Strictmoor Academy has been such an amazing process and experience for me as well as all those who have been involved over the past few years; and there have been quite a lot of people involved. It started back in April 2016 when I was approached by a custom client whom I had made some previous films for. He had this idea for a 1950s theme old fashioned spanking film with multiple tops and bottoms, multiple scenes and storylines. It was to be a long script with about 12 scenes that would take two full days of shooting. I was down for this 100% and very excited about the new project, little did I know at that time it would become the phenomenon and brand it is today.
We both worked on casting choices and the script together. He wrote the narrations and ideas and I turned it into the script of 12 scenes. He decided whom he would want to star in it and I contacted them and set up all the details. It was a bit stressful at first, but we did it, and we did it well. That first film, called "The Seat of Learning Year 1" is also known as "Strictmoor Academy Year 1" & was released in November, 2016. From the day it was released, it took off like crazy. It was even nominated for a Fetishcon Fetish Awards for "Best Fetish Feature Length film" in 2017 and again in 2018.  It was in such high demand and we knew we had something special.
We then discussed doing what is called a "mini-Strictmoor" between the bigger productions. These would take one day of filming, be about 5 to 6 scenes and have about half the number of cast members, if not less. In August of 2016, the first mini production with two bottoms and one top was filmed. This smaller production would involve girls from the previous film who had still been misbehaving and needed to be sent back to Strictmoor for further correction. That first mini was called "Strictmoor Spring Break Spankings" and was released in June of 2017.
That first year we filmed 3 productions to get a good start on the project. In November of 2016 while "Year 1" was being released, we produced "Year 2". This consisted of the same three tops along with a few repeat girls and we added a more new girls to the cast. Year 2 was released starting in November of 2017 and at the same time we filmed Year 3 which is yet to come out. Look for that in Fall of 2018! This page will be updated as and when any new developments arise. We also have filmed one more mini series that will be coming in the Summer of 2018. This process has been so exciting and amazing. The models who have been involved have really felt it was a special experience to be in such a large scale spanking production. When I approach talent now, they are very honored and excited to join the growing cast of a Strictmoor Production and as a producer that makes me feel awesome. I hope that this project and brand will continue to grow and become even better, include more amazing talent that we find in the future!"