STRICTMOOR ACADEMY - YEAR FOUR
Play the special long-play PREVIEW clip - courtesy of SpankingTube (below)
The cast of Strictmoor Academy - Year Four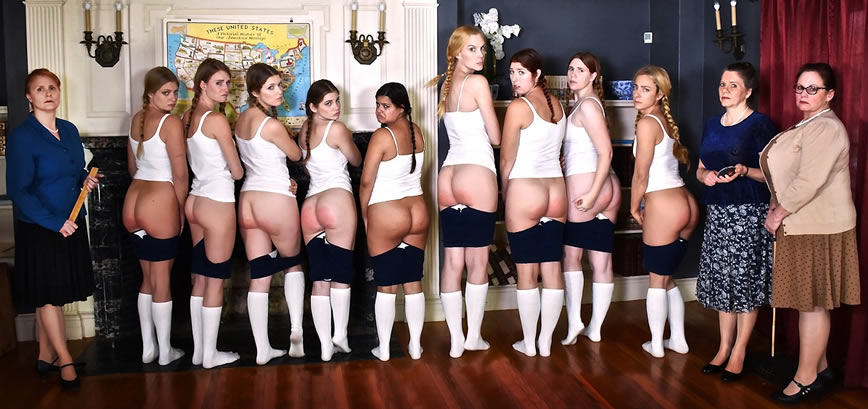 It is September 1961 and time to welcome another full class to Strictmoor Academy. In "Year Four", the students this time are Misty Lovelace, Raven Mackenzie, Amelia Jane Rutherford, Ashley Lane, Alex Reynolds, Maddy Marks, Lily Swan, Apricot Pitts, and Veronica Weston. The excellent teaching staff this time includes a warm welcome back to Tasha Lee as Mrs. Cooper, Miss Elizabeth as Miss Wellbourne, and Miss Bernadette as Mrs. Ganley. This year's group of miscreants includes some returning girls as well as some new ones. Of course, they have all been misbehaving back at home and at their respective colleges. Their studies are falling behind and they need the motivation to catch up. Their mothers have sent them for a full week's course at Strictmoor Academy for the usual academic help as well as expected disciplinary corrections that that Academy is so well known for.
All the young ladies are spanked multiple times in this old fashioned 1960s discipline full feature x hour xx min. film
See each scene (below) with a detailed description. Scenes can be purchased seperately as a specific download link (from Clips4Sale)
Alternatively purchase the DVD HERE
Scene 1 - The three educators are so thrilled to be meeting up together once again. Mrs. Cooper (who had been on a leave of absence) is back and with fabulous news of her newspaper column on disciplining young women. Many have written in to tell of their stories and how her column has influenced their own disciplinary practices at home. In one such example, we hear about the many letters with vivid flashback clips of the disciplinary corrections being carried out. PURCHASE CLIP HERE
Scene 2 - Four of the naughty girls are to be dealt with at the hands of Mrs. Ganley. Their mothers' have sent letters to outline their misdeeds and on this first night at the academy they will each be spanked. After Mrs. Cooper goes over the rules of the academy with all the ladies in the classroom, all are excused to go and unpack except for Katy (Misty), Janet (Ashley), Lilian (Alex), and Rebecca (Veronica). The four naughty girls are instructed to meet Mrs. Ganley that evening wearing only a white camisole, white socks, and navy knickers at the bottom on the stairs. She slowly pulls each girls' panties down and leads them one at a time up the stairs bare bottom on display for further humiliation. Then the naughty miscreant is stood in front of Mrs. Ganley and Miss Wellbourne for a chastisement which includes having the contents of the letters sent from home outlined. Then, the backs of their thighs are soundly smacked before being taken over the lap for a good hard spanking.
PURCHASE CLIP HERE
Scene 3 - Five of the young ladies all cheated on an exam that was set for them the evening before. They were trusted to do their own work but there had been collusion. The next morning the five ladies are to be punished in front of the class. Cheating will not be tolerated.
PURCHASE CLIP HERE
Scene 4 - The five young ladies who cheated are now getting ready for bed, yet they know that a spanking during the day means another spanking at bedtime. Miss Wellbourne meets them in the spanking room. Each is soundly spanked in front of the others. At the end, Penny (Apricot) is given a special punishment since she was the ringleader. She is spanked in the corridor so that all the girls can see and hear at they look out of their bedroom doors. She is given a hard over the knee bare bottom spanking and then put to bed. PURCHASE CLIP HERE
Scene 5 - The young ladies are back in the classroom the next day for class with Mrs Ganley on poetry. She has written a poem on the board about what happens when there is misbeavior and the students are told to study it. The first half of class everyone is on their best behavior, but that afternoon, Lillian and Debbie were caught passing notes. They were told to come to the front of the class as that is where their punishment would be carried out. They were first told to get undressed down to their camisole, knickers and socks. Then each was put on the box and had to recite the poem while Mrs. Ganley smacked the back of their legs soundly. After, each naughty girl went over the good ladies lap for a thorough spanking. After they were both punished they were sent back to their chairs bare bottomed to sit for the rest of the afernoon lesson. Later that afternoon, two more students were caught misbeaving in class. Janet and Rebecca were caught talking in class. The same punishment that was carried out on the previous ladies was also carried out on them. Rules will be followed in the academy or there will be consequences. PURCHASE CLIP HERE
Scene 6 - Two naughty girls, Janet (played by Ashley Lane) and Rebecca (played by Veronica Weston) both receive their bedtime punishment from Mrs. Ganley for their earlier infractions of talking in class. But, the punishment is not just a spanking, but also a mouth soaping. The two naughty girls are taken one by one into the bathroom for a humiliating sudsy mouth soaping which ends in an over the knee hairbrush spanking for each naughty girl. They are then promtly put to bed with sore bottoms and clean mouths. PURCHASE CLIP HERE
Scene 7 -Two students, Katie and Rebecca (played by Veronica Weston and Misty Lovelace) are punished. You see, this was the first weekend at Strictmoor and the young ladies were allowed to go into town. These two naughty girls broke something by mistake at a local shop and instead of beig honest, they ran away but were caught. They tried to lie their way out of it. The manageress brought the two ladies back to Strictmoor to have words with Mrs. Cooper about this. After bring scolded by both women, students are led upstairs for a humiliating punishemnt in front of the store manager. Each girl is smacked on the backs of their thighs before having their knickers lowered for the inevitable over the knee bare bottom spanking. After, they are made to stand and face the manager and apologize for their naughty behavior. PURCHASE CLIP HERE
Scene 8 - This final long scene is split into two parts. First, the canings and then the hairbrush spanking over their caned bottoms.
In Part 1: It is the last evening at Strictmoor and each naughty young lady has accumulated enough demerits to warrant a caning. So they are all brought into the room wearing their punishment outfits. Mrs Ganley and Miss Wellbourne take turns caning the naughty girls which leaves them sobbing and very sorry. They are dreading what is coming next, a hairbrush spanking over their caned bottoms.. PURCHASE CLIP HERE
Scene 8 - In Part 2: After each naughty girl is given a solid caning, they are bent over the knee for a hard hairbrush spanking over their caned bottoms. This hurts a lot and they kick and cry and beg for it to stop. They are of course made to look in the mirror at their naughty faces and watch the punishment taking place. This spanking ends their time at the Academy. Do you really think these nine naughty girls have learned their lesson? Maybe one or more of them will return in a future episode.! PURCHASE CLIP HERE
© Strictmoor Academy 2016-2023