STRICTMOOR ACADEMY
- STRICTMOOR MEETS ENGLAND -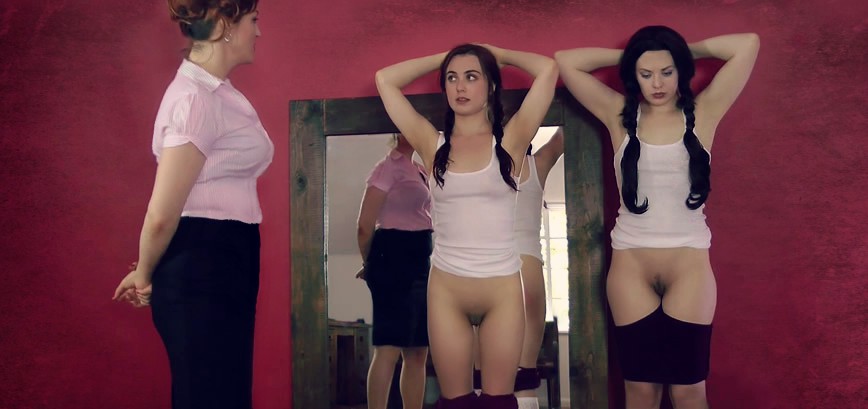 The cast of Strictmoor Academy - Strictmoor Meets England
In this new mini-series from Strictmoor Academy... UK based disciplinarian, Eris Martinet, plays the role of Miss Knight. Lola Rae plays Kimberly and Helen Stephens plays Audrey. The renowned Strictmoor Academy is brought to the UK for the very first time.
Miss Knight has just purchased a huge home in the English countryside and decided to turn it into a boarding facility to better educate young women with behavioral problems. Mothers with naughty girls started to hear of the news through the grapevine and nationwide advertising - so they wrote in trying to get their misbehaving daughters placed at the academy. As a start-up, Miss Knight only wanted a small number of students during a trial period to test the new program off-peak in the summer. She chose two particularly naughty girls, Kimberly and Audrey.
This is the story of when Strictmoor Academy meets England.
This series is only available at the Sarah Gregory Spanking Clips4Sale store & nowhere else
See each scene (below) with a detailed description. Scenes can be purchased seperately as a specific download via Clips4Sale
Coming Soon - there will be an option to purchase the DVD - other DVDs are available HERE
Scene 1 - We see the students introduced. They are both scolded for their past transgressions before being undressed down to only a white camisole, white school socks, and regulation school knickers. Then, their knickers are lowered and it's a long walk through the house and up the stairs for their first punishment of the week. Both of them are spanked in turn before a large mirror and as per Strictmoor tradition, they are made to watch themselves being spanked to add to the humiliation. Each young lady also has the backs of her thighs smacked for reaching around during the spanking. They are warned that this will happen again if they try to stop the punishment. This sets up the expected discipline for their week with a spanking on the first night.. PURCHASE CLIP HERE
Scene 2 - The 2 students are doing their first assignment while Miss Knight looks on. Afterward, they are to hand their work to the good lady. She is not happy with what she sees. She first takes Kimberly over her lap, but not until she pins up her pinafore and pulls down her regulation knickers. It is then right over the lap for a good dose of dicipline with hand and hairbrush. Next it is Audrey's turn. Her assignment is less than perfect... so of course she is to go right over her teacher's lap for a hand and hairbrush spanking too. In the truest of Strictmoor traditions, "A spanking in the day means a spanking at bedtime". Sure enough, later that evening they are taken over the lap once again, one at a time, for another bare bottom spanking. Each girl looks through the keyhole as the other one is spanked. PURCHASE CLIP HERE
Scene 3 - The lectures continue with English Literature as both ladies take notes. They both did such a good job that the next dose of discipline was postponed until 3 days before they were to head home. The issue being dealt with was a bad habit of missing curfew and their mothers wanted to make sure Miss Knight dealt with this. So on the morning of their punishment, it was to start with writing 100 lines, "Young ladies who break curfew will learn a lesson on their bare bottoms." After writing lines they are each, in turn, taken over the knee for a hard spanking. This is done over their summer pinafore, then on their white cotton panties, and finally on their bare bottoms. How humiliating to be once again spanked on their bare bottoms in front of each other. That evening they are taken on the long walk upstairs for the dreaded bedtime spanking before an early bedtime. PURCHASE CLIP HERE
Scene 4 - So ends their stay and discipline, but before they are sent home, they have more punishments. This is in the form of hand rulering, canings and of course followed by over the knee hairbrush spankings with the Mason & Pearson hairbrush. Both naughty girls stand in summer pinafores and look in the mirror during their entire punishment. After their time with Miss Knight is complete and the ladies have been sent home, written letters arrive to the good ladies homes. These are from the mothers of the girls outlining the spankings they have received at home. Miss Knight imagines what these were like and we see these clips in split screen. Hopefully these two naughty girls have learned a valuable lesson during their time at Strictmoor.. PURCHASE CLIP HERE
Play the special long-play PREVIEW clip - courtesy of SpankingTube (below)
© Strictmoor Academy 2016-2023