This film was nominated for the
2018 Fetish Awards
- Finalist of the
over 60 minutes fetish film section
-
STRICTMOOR ACADEMY - YEAR TWO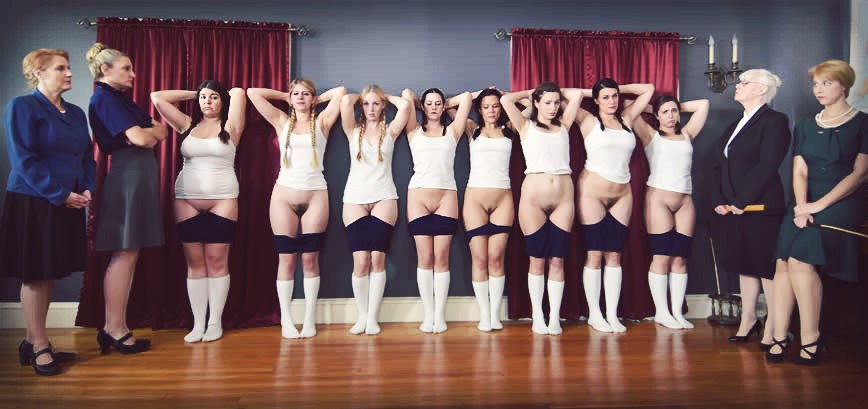 The cast of Strictmoor Academy - Year Two
In this 10 scene film, there are 7 students, 3 tops, and the 2 daughters of Mrs. Cooper.
All the young ladies are spanked multiple times in this old fashioned, 1950s discipline, full feature 2 hour and 45 min. film.
See each scene (below) with a detailed description. Scenes can be purchased seperately as a specific download link (from trusted reseller Clips4Sale)
Alternatively, choose the option to purchase the entire collection as part of a site membership to Sarah Gregory Pass or purchase the DVD HERE
Scene 1 - It was early 1960 and the new class was being welcomed to Strictmoor Academy for the usual 2 week course. They had been falling behind in college and just in general breaking rules. Their mothers had sent them to Strictmoor, where there is such a good reputation for putting wayward young woman back on the straight and narrow through extra studies, and of course discipline. The college was housed in a beautiful, old Victorian home and was run by a mother and daughter team: Mrs. Jackson and her daughter, Mrs. Cooper. They had an excellent reputation for putting students back on the straight and narrow. Throughout the 2 weeks, all the students experienced their successful methods of correction. This, of course to their surprise, included many disciplinary methods: bare bottom spankings, hairbrush spankings, canings, scoldings, having their hands rulered, writing lines, and early bedtimes. When they broke a rule, they found themselves experiencing one or more of the above methods. They were also punished by a woman, Ms. Drower, the housemother, at bedtime because a spanking in the day meant a spanking at bedtime. They all learned fast, but not fast enough, that they needed to be on their best behavior to avoid having their bare bottoms spanked soundly by one of these 3 ladies.
PURCHASE CLIP HERE
Scene 2 - Six of the new young ladies are each disciplined by Mrs. Cooper. She had received letters from each of their parents telling of their misdeeds. As a result these six ladies would be punished one at a time in the "spanking room" upon their introduction to Strictmoor. All six of these ladies broen rules either at home or at their university and being disciplined with good old fashioned, panties down, over the knee, bare bottom spankings is what they will receive right off the bat. After changing into their "punishment outfits" they are to report one at a time to the "spanking room" to await punishment. They are very sorry young woman who realize very quickly what happens when rules are broken and behavior is not acceptable.
PURCHASE CLIP HERE
Scene 3 - We begin in the classroom with Mrs. Jackson teaching American History lessons. Belinda and Charlotte are caught chewing gum. This doesn't bode well for them as gum chewing is strictly forbidden at the academy. They are brought to the front of the class for their punishments. How humiliating to be disciplined in front of all the other students. They first have the backs of their thighs smacked while standing on a wooden box. Next their panties are lowered for further embarrassment. Before they are spanked, they are each given 6 ruler swats on their hands which stings like crazy. Finally it is over the knee for a hard bare bottom spanking which leaves them sobbing and kicking their legs, promising never to break rules again.
PURCHASE CLIP HERE
Scene 4 - A spanking in the day means a spanking at bedtime for Charlotte an Belinda. Their bottoms were already very sore from the harsh punishments they received during class at the hands of Mrs. Jackson, but that will only make the bedtime spanking hurt much more. That evening they are lead upstairs by their housemother, Miss Drower, for the inevitable. It's over her lap for a hard hand spanking followed by the hairbrush. They are two very sorry girls that will surly be sleeping on their tummies.
PURCHASE CLIP HERE
Scene 5 - Four sorry ladies were caught smoking in the garden and that is strictly against the rules at Strictmoor Academy. They are told to report to the hallway outside the spanking rooms in punishment outfits consisting of maroon knickers, white camisoles and white socks. Mrs. Cooper prepares them by giving them a good smacking to the backs of their thighs, pulling down their knickers and standing them back in the hallway to await their spankings. Then, Mrs. Jackson and Miss Drower come to administer hand and hairbrush spankings to the sorry miscreants. Each takes a seat in one of the spanking rooms and takes a young lady over her lap for either the hand or hairbrush. With two spankings happening at once, it creates even more anxiety for the awaiting girls.
PURCHASE CLIP HERE
Scene 6 - The two daughters of Mrs. Cooper are dealt with. They had been misbehaving while away at college and letters were sent home to their mother who just so happened to be one of the ladies who ran this strict academy for naughty young ladies. To their unlock, they would be spending the week in the house along with the other students and would undergo many spankings. In this scene they get two spankings, one in the day and of course another in the evening since a spanking in the day means a spanking at bedtime. Before their first spanking they are made to dress in punishment outfits consisting of Maroon knickers, white camisoles, and white knee socks. They are scolded and the backs of their legs are smacked before having their knickers pulled down. They are then each made to watch their sister get spanked. After they are both soundly punished they are told to write letters of apology to their housemothers and report back with them at bedtime, but wearing the navy knickers instead. That evening, they each ready their letter to mother before going over her knee for a spanking with the dreaded Mason and Pearson hairbrush that mother loved to apply to the bare bottom for only the worst punishment. They kick and sob in pain, but what is even more embarrassing is that they each have to watch the other one get spanked. How humiliating! Finally, they are lead upstairs for an early bedtime with no supper.
PURCHASE CLIP HERE
Scene 7 - The continuation of Mrs.Cooper's two daughter's disciplinary correction continues, but this time in front of the class. Since they were rude in a public forum it is only fitting that they be publicly humiliated by having their bottoms soundly smacked in front of the other students. After they are sent upstairs, Mrs.Jackson takes over teaching. She is shocked to find that three of the young ladies, (Anthea, Susan, and Kelly) have hemmed their skirts and they are now too short. These three naughty young ladies are also wearing panty hose, which are forbidden. They are each given a spanking over their panty hose, on their knickers, and on the bare bottom before being put on display bare bottoms to the class while the lesson is continued.
PURCHASE CLIP HERE
Scene 8 - This scene features the detention of 4 naughty girls. These girls turned their history homework in very late and also incomplete. They have been instructed to attend a detention where further discipline will follow line writing. They are each instructed to stand on a wooden box and face the class to recite the US presidents in order, but NONE of them is able to do it which results in having the backs of their thighs smacked until they are jumping in pain. After they are each taken over Mrs. Jackson's lap for a hard bare bottom spanking. Of course after having to sit on their sore spanked bottoms to finish their lines, they know that another spanking is coming that evening since a spanking in the day always means a spanking at bedtime. That evening, Ms. Drower takes each of the naughty young ladies over her knee while the others look on for what is to be a very hard bare bottom spanking which has then sobbing and kicking their legs. It will be a very uncomfortable night for these 4 naughty girls.
PURCHASE CLIP HERE
Scene 9 - Four of the young ladies at the academy had tried to steal makeup from a local department store. What a shock it was to the academy staff and an embarrassment. They had convinced the shop not to press charges when they assured them that there would be strict punishment for this behavior. The store manager and staff were invited to watch the punishment of the naughty young ladies. They were to be spanked over their skirts, over their girdles, over their panties, and then on the bare bottom with BOTH hand and hair brush. This was to be a punishment they would never forget. Of course they were made to stand in front of their audience, panties down, hands on head, and apologize for what they had done before being sent upstairs for another spanking from Miss Drower, because as they know, a spanking in the day means a spanking at bedtime.
PURCHASE CLIP HERE
Scene 10 -  is the final scene of Strictmoor Academy Year Two. In this last scene all eight students are put through a series of spanking stations for all breaking curfew on their last night at the academy. In station one, Miss Drower smacks the backs of their legs. In station two, Mrs. Cooper spanks them over their panties. In station three, Mrs. Jackson spanks them on the bare bottom and in the last station, the academy of trustees canes them. This is to make sure they have all learned a lesson at Strictmoor and really drive the message home before they return to their homes.
PURCHASE CLIP HERE
Play the special long-play PREVIEW clip - courtesy of SpankingTube (below)
© Strictmoor Academy 2016-2023